WHAT'S GOING ON IN AFGHANISTAN, YOU MIGHT BE WONDERING? WELL, THERE'S A WHOLE HELLUVA LOT OF ISLAM GOING ON!  AND, THERE'S A WHOLE HELLUVA LOT OF WASTED AMERICAN YOUTH, MISDIRECTED ENERGIES AND WASTED AMERICAN TREASURE GOING OUT THE DOOR! 
THE FOLLOWING ARE JUST SOME RECENT PHOTOS FROM AFGHANISTAN, WHERE THE RESIDENTS WILL NEVER LOVE US, NEVER EVEN LIKE US, NEVER APPRECIATE OUR EFFORTS AND IN SHORT, WILL FOREVER USE THE EXCUSE THAT WE "SET FOOT IN THEIR ISLAMIC COUNTRY" AS REASON FOR TERROR ATTACKS AND MURDERS.
FOREVER.


THERE'S FARMING GOING ON IN AFGHANISTAN:
Brothers Mohammad and Muhammad peacefully tend to Afghanistan's favorite cash crop (courtesy Al-Awlaki Media)
THERE'S RETRIBUTION TOO:
The DEA wipes out Mohammad and Muhammad's crops (courtesy DEA)
THERE'S A GOOD DEAL OF ASS-KISSING THE NATIVES:
American Forces are seen being "advised" by Muslim Afghani's (courtesy Al-Awlaki Media)



LOOKS LIKE A MOHAMMADAN WILL GET HIS 72 VIRGINS:

Another Islamist named Mohammad bites the big one (courtesy Great Satan Communications)


BUT OF COURSE, THE MOST IMPORTANT ACTIVITY IN AFGHANISTAN IS:

The smell is just atrocious at the door of the Mosque where Mohammadans slave to Allah (courtesy Al-Awlaki Media)
AFTER PRAYERS, IT'S BACK TO "ADVISING" SENIOR U.S. MILITARY OFFICERS:
"Oh we hate the Taliban, General" an unwashed mullah tells him, while planning to give away the American positions to the Taliban (Allahu Akbar Media)
AND THEN THERE ARE THE "LETTER BOX LADIES" AND THEIR PROPHET-BAIT SPAWN:
"Mother, can we kill this unclean infidel monkey and have him for dinner?" (courtesy Worldwide Aisha's Pants)

AND THE TALIBAN IS ALWAYS NEARBY, OR WITHIN THE RANKS OF OUR "ALLIES," OR, SOMEPLACE DAMNED CLOSE:

"Allahu Akbar you fucking Zionist pig! Die! Die! Die! Die!" thinks Mahmoud Mohammad (left) while his little brother Mohammad Mahmoud aims the RPG at the cameraman (Allahu Akbar Media)
OH BUT AGAIN, IT'S NOT ALL DESERT WASTELAND IN AFGHANISTAN:
An American soldier finds the rare "green" patch in the desert (courtesy Golden Triangle Promotions)
BUT THOSE GREEN PATCHES ARE RARE, INDEED: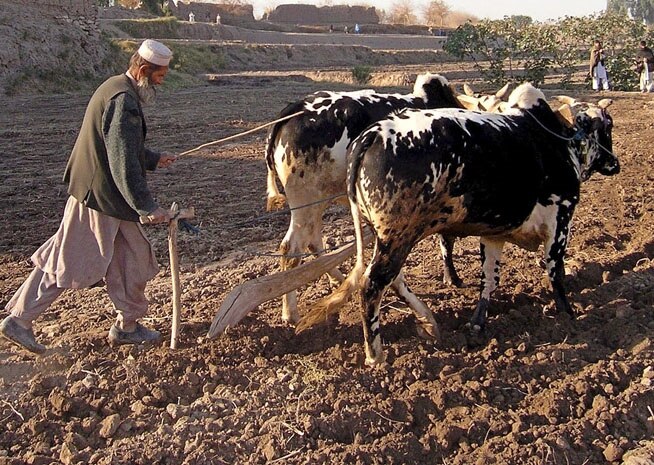 Food for people isn't nearly as important for Mohammadans as producing poppies for the Taliban's war effort is  (Allahu Akbar Media)
JUST LOOK AT SOME OF THE JOY ISLAM HAS AFFORDED AFGHANISTAN:
"Destruction and death is Allah's will" says Mohammad al-Muhammad of the Taliban (courtesy AFP)
MORE OF ALLAH'S WILL:
"Maybe Islam really is just a cult of death and I should get the hell out" this man could be thinking. (Great Satan Communications)
BUT WILL THESE PEOPLE EVER BE ABLE TO GRADUATE FROM THE 7TH CENTURY?
IT'S DOUBTFUL.
AT LEAST NOT WITH THIS THING AT THE HELM: