"Ask A Semi-Literate Musulman" is an exciting feature that appears weekly on Eleanor Ruth's Blog!  Viewers are invited to send in their questions -- on any topic -- and heck, we may just select yours to be answered personally (if not at all intelligibly) by our staff "Semi-Literate Musulman!"
Their be me, SLM (2st row, 2st from thanleft) ass I prey forthan Paeleostein starve peoples (courtesy of SLM Media)
"I luvthan Ismal and than blood to!" (kertsey ofthan SLM Media, Ltd)
 Dear Semi-Literate Musulman,
I am planning a trip to Israel in the Fall and I am so excited! I have wanted to visit Israel since I was a little girl, and now almost all of the arrangements have been made. My question to you is, what can I expect weather-wise and what kind of clothes should I pack?
Thanks!
Sara in Bethesda
---------------
Deer Sraa hate bedthes.
It will be than defecult for me too anser yuor questin withot becuming very angry, than. Why do yuo want too go too thanJew state? Is it becuase yuo be than Jew to? I can may be let than slyde, butt not when it come to thanJew state Irseal!  Ireaseal is illegeul and yuo shold not go their! The way than jews attached than piece boat just tryng to get food to than starved paleostines were harble, sarar jew!  Why wood yuo want too go they're and suport than harble jew rejeem?? They rasical separation be aporthade! 
Are grated Porphort Muhamhead (MSNBC) say in than Hadteeth these about than awfil Jews:
"Judgement Day will not come until the Muslims fight the Jews, and the Muslims will kill the Jews, and then the Jews will hide behind stones or trees, and the stone or the tree will say: Oh Muslim, oh servant of Allah, there is a Jew behind me, come and kill him - except for the Gharqad, which is a tree of the Jews."
Yuo see than Srar? Jews be harbble and they're blood must be spillt.  I hoped than yuo will reconsidur going too thanJew blood spillt place, Sar hate, I reely do!
Irseal isthan harble Jew place, uhsept forthan gorjiss moske rite they're with thangold top on than! (courtesy Al-Koods Revival Fund, Inc)
Hear isthan much niser place, Sarar bedthes hate! Kabool in Afhgniastun be lots more pretty than Irseal, than. Why yuo not go their uhsted? They be lots of Moslimes to, too keept yuo compney! (photo courtesy of Kabul Tourism Inc.)
Thnaks for than writ, Srar!
SLM
Dear Semi-Literate Musulman,
My cousin Billy converted to Islam when he was 19. He was in prison at the time and met an Imam named Faizel, who encouraged him to convert if he didn't want to be beaten up in the exercise yard! So you can see he converted under duress. Anyway, Billy has turned his life around and has since become a Christian. Any advice for him on how to talk to his (still) Muslim friends, some of whom are really nice?
Thanks!
Julie in Duluth
---------------
deere Jul hate Dulu,
Hear from thanBokohri abuot aporsty:
"Narrated Abdullah: Allah's Messenger said, "The blood of a Muslim who confesses that none has the right to be worshipped but Allah and that I am His Messenger, cannot be shed except in three cases: in Qisas (equality in punishment) for murder, a married person who commits illegal sexual intercourse and the one who reverts from Islam (Apostate) and leaves the Muslims." (Bukhari, volume 9, #17)
Ther be no compunction in inthan religoon, Jul hate. I be sow sorrythan, butt yuo brother must than be killt panefuly. Thank for let us know abuot his aportsty, we will soon take care of than!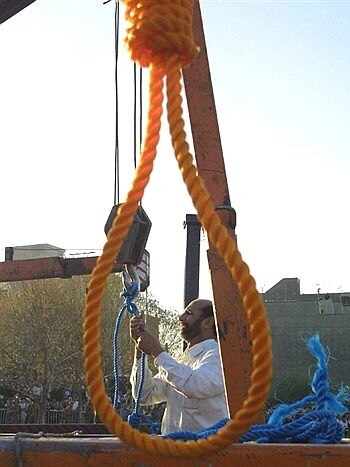 Is yuor brother than good "Christin" danceer? I hop he can than "dance" good cause he have know choice, becuase Ullah be than mercyfil (courtesy Swingin' Islam magazine)
Thnks for sent in yuo qwestin!
SLM
Dear Semi-Literate Musulman,
It really worries me how dumb you are. Have you thought about leaving Islam and perhaps attending some classes...ANY classes? Your utter lack of normal, real-world knowledge or compassion is just breathtaking to behold. Every time I read your column I just want to throw up. Islam has destroyed your soul and, it appears, a very great number of your brain cells.
Thanks!
Jorge in the Midwest
------------------------
Deere jorege yuo hater!
They be .15 bullioun Moslimes onthan erth than are just lyke me yuo Ismalotropic hater hater!!!!!! And than .015 billious moslimes canot be rong! I be KNOT dumm, jroege midwifes, so why donot yuo just fork of, than!!!
Scru yuo, jroge hater HATER!!! (courtesy Rage Boy Ltd.)I
I wod luv too see yuo dye, hater!
SLM
ER'sB IS PROUD TO SAY: