June 12, 2010
In a stunning turnaround today that shocked the entire world, Israeli Prime Minister Benjamin "Bibi" Netanyahu called a surprise news conference at which he utterly redefined the showdown with the Islamic Republic of Iran and its infamous President, Mahmoud Ahmadinejad.
"Let me start by saying today that the Islamo-fascist regime in Iran is going to be toast. Beginning today, we are moving militarily to eliminate the government of Iran, from top to bottom."
These remarks by the Prime Minister were received by those in the press room with a mix of startled gasps and muffled exclamations.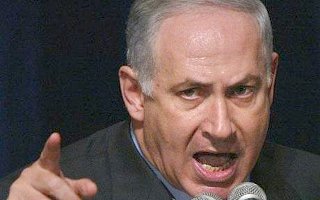 "I am going to completely fuck you up you lying fascist Muslim scum!" the Israeli PM screamed at one point directly into the news camera. No one present had any doubt as to whom the statement was intended for (AP)
"Let me assure you that I did indeed say, and meant, that when I am through with them, Iran's government will be toast and old Mahmoud will be carbonized beyond anyones ability to recognize him, save for perhaps his dentist.
Ever see the photos of Josef Goebbels when they found him? Yeah, that's exactly what I mean. It'll actually be an improvement in his looks."
Nazi Josef Goebbels, carbonized. "It'll actually be an improvement in his looks" said the Israeli PM, who promised the same end result for Iran's Ahmadinejad (courtesy SS Promotions Ltd.)
The Prime Minister then spelled it out even more clearly for the seemingly uncomprehending reporters:
"T-O-A-S-T spells toast, and it also spells the Islamic Republic of Iran." A few reporters snickered, but the Prime Minister was clearly not in a joking mood. He said "You think that's funny? Let me tell you something funny. Six million Jews dead in the Holocaust, and here we have the President of Iran making threats about it constantly, saying he's going to perpetrate another Holocaust upon all the Jews of Israel 'at any time now,' and that's only the second time he's said it today.
Believe me, this is no joke. Fuck with me, will he? No more warnings, his ass is grass, and the Ayatollah's had best start praying to their Mood god."
Mr. Netanyahu then looked right into the TV camera to address Ahmadinejad directly.
"I'm going to ram (your nukes) right up your Muhammad lovin' ass!" said Netanyahu, referring to Iran's Ahmadinejad (courtesy Guns 'n' Ammo magazine)
"Let me tell you something, Mr. Ahmadinejad, I stand here today to inform you that your days can now be counted on one hand, as can the days of your sick, pathetic, totalitarian Muslim government in Iran.
You got nukes you say? Well you better use 'em right now pal, because if you don't, I'm going to ram 'em right up your Muhammad lovin' ass!"
The Prime Minister grew very heated and pointed directly into the camera as he continued. "I know that I speak for all Israelis, and for all Jews everywhere when I say that I have taken all the shit-talk from you I'm going to. You hear me, Mahmoud? I'm coming for you, and when I get to Tehran in a few days, I am going to completely fuck you up you lying fascist Muslim scum!"
"Big Jew talk is all it is, I am not worried about their planes and tanks and missiles and nucle...I really have to go now!" said Iran's President Mahmoud Ahmadinejad as he sprinted toward his private Lear jet bound for Venezuela, which was 63rd in line behind the rest of the Iranian government's fleet of Lear jets also cueing for takeoff (Al-Khillyah TV)
"I promise I would still love you and honor your memory, Mahmoud, even if Israel were to completely carbonize your body until your brains explode right out of your ears and eye sockets" one of Ahmadinejad's wives dutifully informs him (courtesy The Daily Jihad)
"I feel so happy and safe when he holds me in his big, burly arms" said Iranian President Ahmadinejad, who fled in fear for his life from Israel's threat to turn him to "toast" (courtesy Venezuelan Daily Democrat)
"Israel...is...they are...wow, uh they are..." President Obama said, reacting to the announcement made today by Israel (courtesy Socialism Today! magazine)
Leaders from around the world had mixed, but generally positive reactions to Netanyahu's unusually bold announcement.
President Obama, after being briefed, was unable to make a full statement due to a power short in his teleprompter system.
White House Press Secretary Robert Gibbs said "We have an electrician on the way, so check back with us later."
"I really don't have anything else to add" said White House Press Secretary Robert Gibbs (courtesy of Obfuscation Connoisseur magazine)