As I was looking around the web for more exciting Islamic products, I noticed the glut of books available for Muslims, and some of them appear to be rather fascinating.
So this edition of "Islamic Products Available Online" is dedicated to some of the books available for Muslims.
(Note: I am not claiming to have read these books, I am only highlighting titles and descriptions provided, and commenting upon those):
Muslim Boy Conquers Fear of Hate Crimes in Children's Book!
"I Am an American, Too," a children's picture book geared toward ages six and up, has been released in conjunction with the fifth anniversary of Sept. 11, 2001. The book offers lessons about racial profiling, as well as support of caring friends and neighbors. Author Zakia Hyder dedicates the book to victims of violence and to every American who builds bridges across cultures.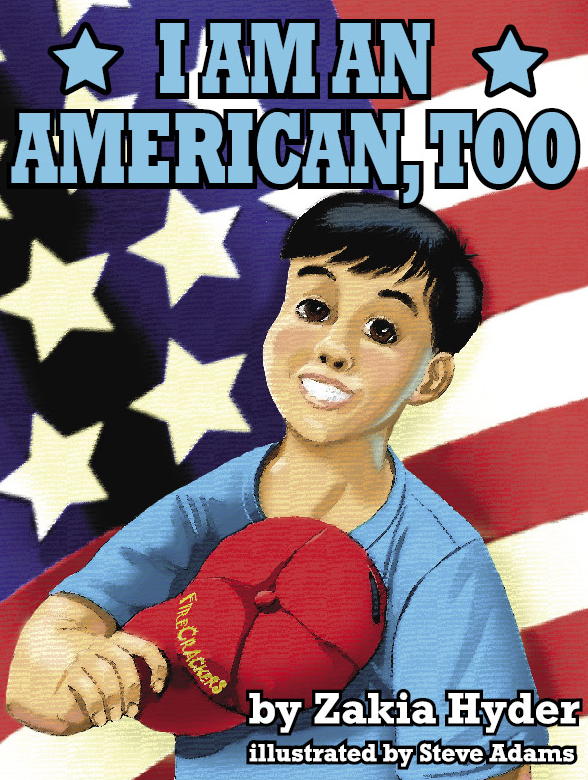 (no price available)
The boy on the cover looks very happy. If I were him I would be very happy too, because I would understand and appreciate that I am living in the greatest and most free country on earth -- certainly a zillion times freer than any Islamic hellhole!  Also, I would have discovered that conquering my fears of "racial profiling" and "hate crimes" was really a snap! That's because hate crimes perpetrated upon Muslims by non-Muslims are essentially non-existent in the United States, despite what Muslim advocate organizations have tried to claim.
They've even gone so far as to make up "hate crimes" out of whole cloth. They NEED hate crimes against Muslims to further their "victim-hood" agenda -- but we're wise to their game. And "racial profiling?" Give me a break!
(By the way, I'm not completely convinced that there aren't several sticks of dynamite underneath that cap...)
"AMERICAN MUSLIM WOMEN: DIVISIONS WITHIN UNITY"
Karim, Jamillah. American Muslim women: negotiating race, class and gender within the Ummah.
(a real STEAL at $75.00)
Pardon me, but are these "American" women who are Muslim, or "Muslim" women just living in America because it suits them?  Shouldn't their "concern" be more about being American than about worrying about how to fit into the worldwide Ummah? Is it unreasonable to ask Muslims who want to live in America to please be concerned about being American??  Sheesh!
But, I'm certain that logic would be completely lost on them, and to even suggest such a thing would be "Islamophobic" and "racist."
"EXTRAORDINARY WOMEN FROM THE MUSLIM WORLD"
(no price available)
"From the wives of Muhammad to an African poetess, from an Egyptian singer to a Turkish fighter pilot, 'Extraordinary Women from the Muslim World' tells inspirational true stories that dispel commonly held stereotypes about Muslim women."
I'm sure there's no mention of Ayaan Hirsi Ali, Wafa Sultan, Ali Sina, Ibn Warraq or even Nonie Darwish in this "fine" book designed to make western women believe that women are so "special" in Islam. Yeah, they're "special" alright.  So "special" in fact, that each woman is legally worth up to one-half of a man!! 
This book really ought to be tited "Extraordinary Women who are Trapped in the Muslim World, Whether They Like it or Not"
"STATE OF THE MUSLIM WORLD TODAY"
(price $10.00)
By 7th Century standards: Not great, somewhat on par with other regions and cultures of the Dark Ages world, more violent than most, less violent than some. But hey, it's the 7th Century!
By 21st Century standards: Really shitty, a hell on earth, backwardly barbaric and retrograde, death-loving and bloodthirsty, an evil cult of death striving to dominate the world and all non-Muslims. But hey, it's still the 7th Century...for them!
"BELONGING AND BANISHMENT - BEING A MUSLIM IN CANADA"
(price $25.95)
Here we go again:
"A variety of Canadian voices come together here to explore some of the vital issues facing Muslims in Canada. Who, indeed, is a Canadian Muslim? This is only one of the fundamental questions addressed in this volume. The authors are from diverse ethnic backgrounds, hail from coast to coast, and profess varying degrees of practice and belief. In their thoughtful contributions, they explore matters of faith, identity, sectarianism, human rights, and women's rights. Specifically, the essays collected here question the dubious role of the government of Canada—under pressure from the "war on terror"—and its agencies regarding the human rights of young Muslims.."
"Dubious role of the government of Canada?" "Human rights of young Muslims..."
WHAT THE HELL IS WRONG WITH THESE PEOPLE? It's a real shame they can't drink or deal with alcoholic products, because they could be the world's biggest exporter of WHINE. 
"MUSLIM SPACES OF HOPE"
(aka "DAR-AL-HARB IS OURS, THE KUFFAR JUST DON'T KNOW IT YET")
(No price listed)
My comments in parenthesis:
"Debates about contemporary Islam and Muslims in the West have taken some negative turns in the depressing atmosphere of the war on terror and its aftermath (its "aftermath?" You mean it's over?). This book argues that we have been too preoccupied with problems, not enough with solutions. It acknowledges but challenges what has come to be viewed as the 'Islamic problem' - the widespread perception or construction of Muslims as a troubled and troublesome minority (that's troubled and troublesome with capitol "T's") - by asking what Muslims have to be hopeful about today, and how others might share this hope. It argues that there are grounds for hope in many areas of everyday life, and challenges assumptions and assertions that have been made about Muslims in the West (actions speak a heckuva lot louder than words).Segregation is set against integration, fear and hate against what cultural critic Paul Gilroy has termed convivial culture (Muslim culture "convivial?" You freaking kidding me??). Assertions of difference are put on hold, suggestions of compatibility entertained. Assumptions that Muslims are non-liberal and anti-modern are challenged with evidence about their negotiations of liberalism and modernity (Muslims are anti-modern, look at any country dominated by Islam). And allegations about Islamic aloofness are set against nuanced evidence of their interaction with other social groups (yeah, maybe we could start by examining how they get along with anyone who is non-Muslim)."
"A TREASURY OF FAVORITE MUSLIM NAMES"
(no price listed)
Hmmm, let's see. With Muhammad, Mohammad, Ahmed, Abdul, Hakeem, Fatima, and Aisha -- that must have been one heck of an easy book to compile!
"THE MUSLIM WORLD AFTER 9/11"
(no price listed)
Did I not just say something about "actions speak louder than words?" Well, here is the Muslim world right after 9/11:
AND:
AND:
I'D SAY THEY'RE PRETTY DAMNED PROUD OF 9/11, AND WISH FOR EVEN MORE OF IT: